Pairs of carols, traditional with unusual
Away in a manger (Chilcott)
See amid the winter's snow (Audience)
Lully lulla thou little tiny child (Leighton)
O little town of Bethlehem (Audience)
Ding! dong! Merrily on high (trad)
Austrian bell carol (Past twelve o'clock)
INTERVAL & PRIZE DRAW (20 mins)
A spotless Rose (Howells)
Es ist ein Ros' entsprungen (Praetorius)
Remember O thou man (Ravenscroft)
Remember O thou man (Chilcott)
It came upon the midnight clear (Audience)
We three kings of Orient are (trad)
Three kings from Persian lands afar
Hark! the herald angels sing (Audience)
While shepherds watched their flocks by night (trad) (Audience)
The shepherds' farewell (Berlioz)
CHAIRMAN ANNOUNCES PRIZES
O come all ye faithful  (Audience)
Pairs of Carols –

Traditional with Unusual

Skipton

Saturday 10 December 2016

£8 from choir members or

treasurer@skiptonchoralsociety.com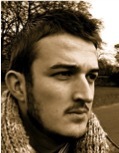 Robert Webb

, who conducts Pinsuti chamber choir, has kindly agreed to be our interim conductor, and will conduct this concert.
Robert read Music at Merton College, Oxford, where he also held a choral scholarship under Peter Philips (Tallis Scholars) and Benjamin Nicholas. He now lives in Leeds with his wife and young son, and enjoys a varied career as a musician in and around West Yorkshire.
Robert teaches music at Skipton Girls' High School and is the choir master at Hipperholme Grammar School. He also teaches brass at Horsforth and Roundhay schools in Leeds, and singing at Queensbury School, Bradford. Robert directs the Vocal Expressions Ladies Choir, based in Holmbridge, who he lead to victory at the prestigious Mrs Sunderland competition in 2016.
He also conducts the Pinsuti chamber choir based in Ilkley which has a growing reputation as one of the best choirs in the area. Robert is a founder member and the conductor of The Ascension Singers, a five part a cappella group based around Leeds. Robert also enjoys the opportunity to perform professionally as a baritone soloist and a trumpet player. In any spare time he gets, Robert enjoys playing sport and spending time with his family


Photo Gallery Concert 10 December 2016

Video Gallery Concert 10 December 2016
A Spotless Rose (Howells)

Away in a Manger (Chilcott)

Es ist ein Ros' entsprungen (Praetorius)

Remember O thou man (Chilcott)

Remember O thou man (Ravenscroft)

Description

See amid the winter's snow

Description