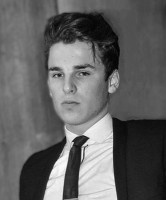 Summer Concert, "I Wake, I Sleep, I Dream of You"

"The Crucifixion"

Christmas Carol Concert

Beethoven's Choral Symphony


"In the Midst of Life"

Last Night of the Proms with Skipton Camerata at Grassington Festival

Bach's St John Passion

Christmas Carol Concert
 

"Come and Sing" Elijah  

Rossini Petite Messe Solonelle

Christmas Carol Concert

Dvorak Mass in D & Vaughan Williams Mass
Chilcott

Little Jazz Mass

Benedictus

Yonni developed his musical skills at Leeds College of Music, and performs on piano, drums, violin and guitar, as well as voice.
He has held several posts as musical director, assistant musical director and conductor, with a range of choral groups, including a multi-faith chorus and an orchestra for young adults with special needs.
Yonni is currently our interim musical director until July 2017, when Robert Webb will take up the baton.